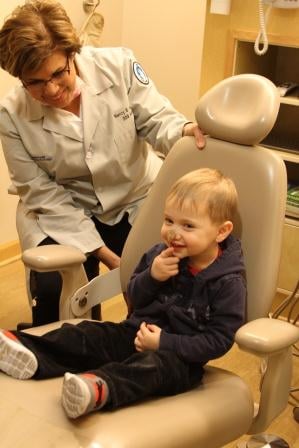 A Chicago mom and a pediatric dentist explain why finding a Dental Home – or a home base for your child's oral health needs – should be at the top of your resolution list in 2015.
It's that time of year when parents and caregivers often resolve to develop new habits that will help improve the health and happiness of their families in the New Year. If you are among those considering which healthy resolution should top your list, remember that good oral health is a vital part of overall health and well-being, and finding a "home base" for kids' oral health care – or a dental home – ensures the best care for little teeth.
Dana, a Chicago-area mom to two-year-old Chase, knew she was in the right place when she walked into her pediatric dentist's office for the first time. While she wasn't familiar with the Dental Home term, she and her son felt immediately at ease when they entered Pine Dental Care and met with Dr. Nancy Hijjawi, DDS MS. "From the second we walked in, I knew I made the right choice. I saw Chase walk into the waiting room, and he had books, toys and an iPad to play with – he was immediately excited to be here," said Dana.
According to Dr. Hijjawi, a Dental Home is a "familiar and comfortable place for children and parents to access information on oral healthcare and guidance, including what things parents can do at home and habits to encourage for children to have optimal oral health." Establishing a Dental Home ensures that children receive consistent care by a pediatric dentist who has received two to three years of specialty training following dental school.
In addition to ensuring parents learn and have access to the tools they'll need to help their children remain cavity-free, a Dental Home is important for various other reasons. Dana stated, "It's important to me to have a reliable pediatric dentist so that if I have any questions or any emergencies occur, I know exactly who to call. Plus, I know I can get a hold of them right away and it's close to our home."
According to the American Academy of Pediatric Dentistry (AAPD), parents should bring children in for their first pediatric dental visit no later than age one. Dr. Hijjawi emphasized the importance of visiting a pediatric dentist early, saying, "The thing about a Dental Home is that you don't realize how much you need it until something happens like your child falls and knocks out a tooth. In a panic, you're not quite sure where to go, what to do or who to call. But, if you've already been to an office and you're familiar and comfortable, it tends to be a much less traumatic event. If you've established a Dental Home early on before there's a real problem it's better for the child, it's better for the parents, it's better for everybody."
Just as Dana and her son Chase noticed upon entering Pine Dental Care, pediatric dentist offices strive to offer a kid-friendly environment for parents and children. "We have sinks that are at eye-level for young children and we have things that are smaller in scale so that when they climb up they don't feel overwhelmed by the size. The furniture matches the child," stated Dr. Hijjawi. "We also talk to children in child-friendly vocabulary. We make word substitutions and we vary the tone of our voices so that we can remove anything that sounds as if it would be scary or uncomfortable. Plus, we always involve the parent – we'll have the parent put the child in their lap or have the parent sit right next to the child to make them feel safe."
So, how do parents go about finding a Dental Home? Dana noted she was referred by Chase's pediatrician. In addition to pediatricians, Dr. Hijjawi adds that school nurses are great resources as they also have good working relationships with pediatric dentists in the area. Additionally, she stated, "The AAPD website has a parent resource center and you can enter your zip code to find a pediatric dentist within a certain area."
"I was so happy to see Chase be comfortable at the dentist and have fun. Clearly he doesn't want to leave yet," Dana laughed as she watched Chase roll a toy truck across the waiting room. "Chase got three new toothbrushes and he couldn't be happier. We learned some new brushing techniques that we're going to start at home tonight," Dana said with a smile at Chase as she lifted him up in preparation to leave. As he brandished his three toothbrushes to Dr. Hijjawi, Dana added, "We strive for no cavities!"