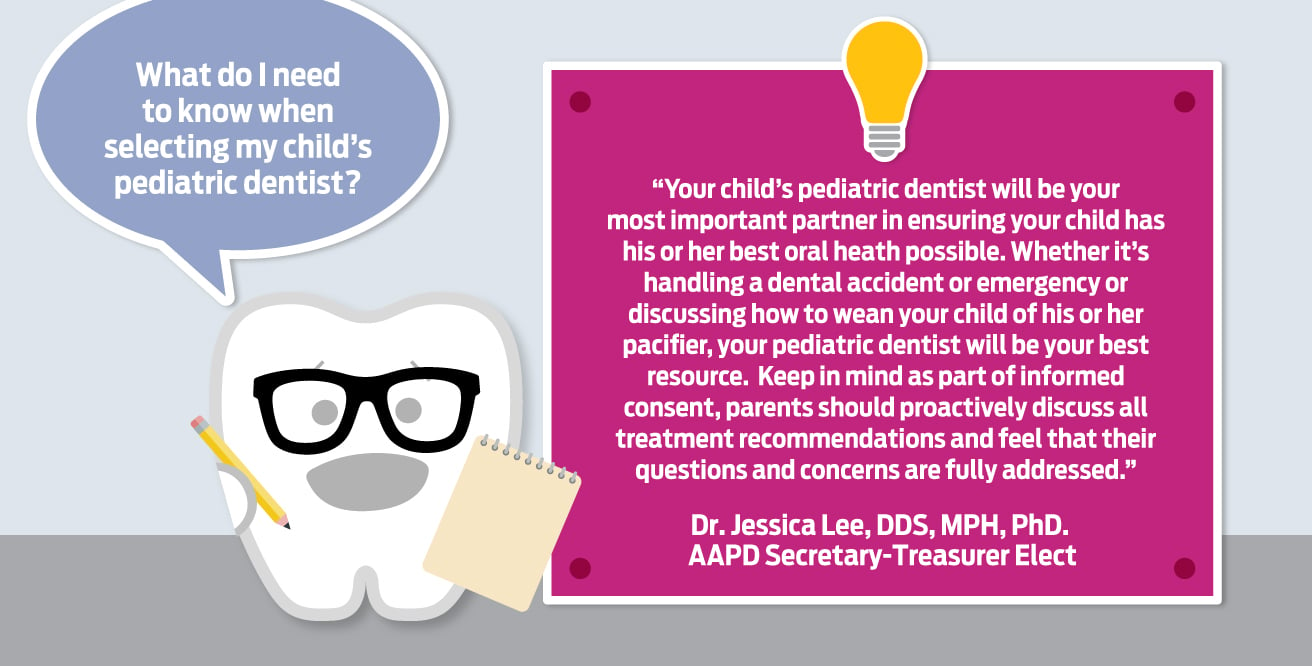 Selecting a pediatric dentist for your child can feel like a big decision for many parents, and it's a crucial first step to ensure a lifetime of healthy oral habits. Here are a few tips to keep in mind as you're looking for an oral health partner and pediatric dentist for your child:
Ask for recommendations: Your pediatrician should be able to refer you to local pediatric dentists to consider. Family and friends can also provide great insights on pediatric dentists they visit. Check out the AAPD website to search for a pediatric dentist in your area.
Partner-up: Your child's pediatric dentist will be your most important partner in ensuring your child has his or her best oral heath possible. Whether it's handling a dental accident or emergency or discussing how to wean your child off his or her pacifier, your pediatric dentist will be your best resource.
Have important conversations: You play the most important role in your child's dental health and should ask questions to ensure you understand your pediatric dentist's recommendations. This includes your discussion around treatment of cavities when the use of anesthesia may be recommended. Keep in mind as part of informed consent, parents should proactively discuss all treatment recommendations and feel that their questions and concerns are fully addressed. If you have any level of discomfort with their responses, seek a second opinion.
Once you've selected your oral health partner, take a look at this checklist to prepare for your child's first visit to the pediatric dentist.
Do you have a question for the Little Teeth Truths? Be sure to share with us on Facebook and Twitter!