Final Score: Pediatric Dentists Help Defeat the Full Lineup of Mouth Monsters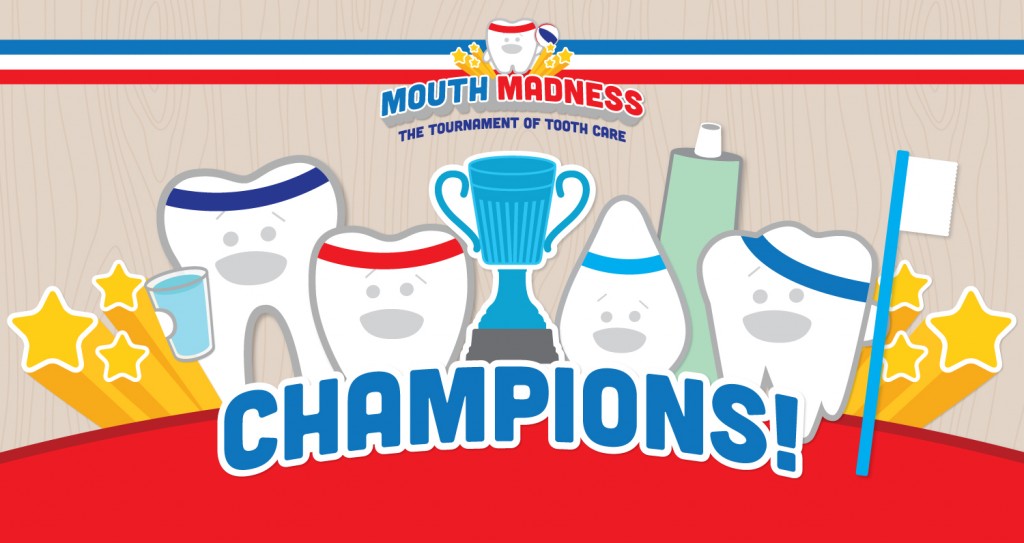 Healthy little teeth ended up in first place at the conclusion of the National Children's Dental Health Month Tournament of Tooth Care. Each little champion brought a unique skill, and they all worked together to take on the Mouth Monsters with ease. According to their coach, the Pediatric Dentist, the fun isn't over yet – brushing and flossing practice starts again tomorrow, and the team's next 6-month checkup is already scheduled for late 2016.
Mouth Madness fans can keep up with the action by following the AAPD on Facebook and Twitter. And to get ready for your little one's visit with the pros, check out this checklist for a child's first visit to the Pediatric Dentist.
Week 4: Cuspid Leverages Dental Home Court Advantage to Overtake Ginger Bite-Us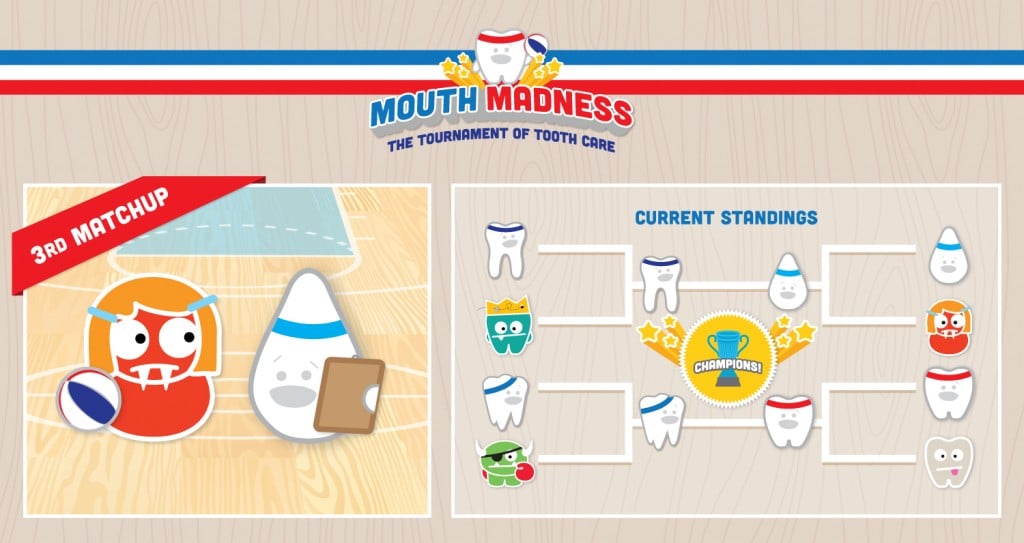 We interviewed the latest healthy little tooth to overtake a Mouth Monster and asked how his dental home court advantage helped him win.
"Establishing a Dental Home Court at my Pediatric Dentist's office is the first move I learned in preparation for the Mouth Madness tournament. My Dentist's team knows how to deal with everything from pacifier weaning, to caring for children with special needs, to dealing with dental emergencies. I couldn't have defeated Ginger Bite-Us without their help!"
For personalized oral care coaching, visit a Pediatric Dentist in your local community or find one here: http://www.aapd.org/finddentist/.
Week 3: Second Molar Triumphs Over Tartar the Terrible, Shows Off Healthy Oral Routines


Taking on a Mouth Monster is a cinch for a Second Molar with Healthy Oral Routines. Executing moves he learned in practice with a Pediatric Dentist, the victorious tooth dodged sugary foods and drinks and chose tap water for his water bottle instead. The Mouth Monsters feasted on sour gummies, but Second Molar avoided sticky situations on the court and in his lunch box. He munched on carrots and apples to keep his oral care game fresh and clean between brushing.
Week 2: First Molar Beats Tooth D.K., Thanks Fluoride
A little fluoride every day went a long way for First Molar in today's Mouth Madness matchup. Ranked #1 in cost-effective ways to prevent tooth decay and a favorite play among Pediatric Dentists, strengthening teeth with fluoride is a smart strategy for little molars everywhere.
Tooth D.K. has stepped on the oral care court many times – tooth decay is one of the top chronic infectious diseases among children in the U.S. – but with a fluoride-focused game plan, its victories are nearly 100% preventable.
Recruit fluoride to your team of healthy teeth.
Week 1: National Children's Dental Health Month: Introducing Mouth Madness
This February, in celebration of National Children's Dental Health Month, we're hosting a one-on-one tournament of tooth care, watching little teeth take on the Mouth Monsters one big game at a time.
Our insider sources tell us Pediatric Dentists start coaching their primary players in year-round, healthy habits by age 1. With two to three years of additional specialty training, each Pediatric Dentist brings a quadruple threat: training to become a dentist plus child psychology, growth and development, and special health care needs. We can't wait to see which oral care skills will come into play!
The Mouth Monsters – Tooth D.K., Ginger Bite-Us, and Tartar the Terrible – may be known for their tenacity, but they lack crowd support (no matter how cute their uniforms are). With countless caring parents and caregivers in the stands, we're favoring happy, healthy teeth to come out on top, even if they're just temporarily filling in for the big guys.